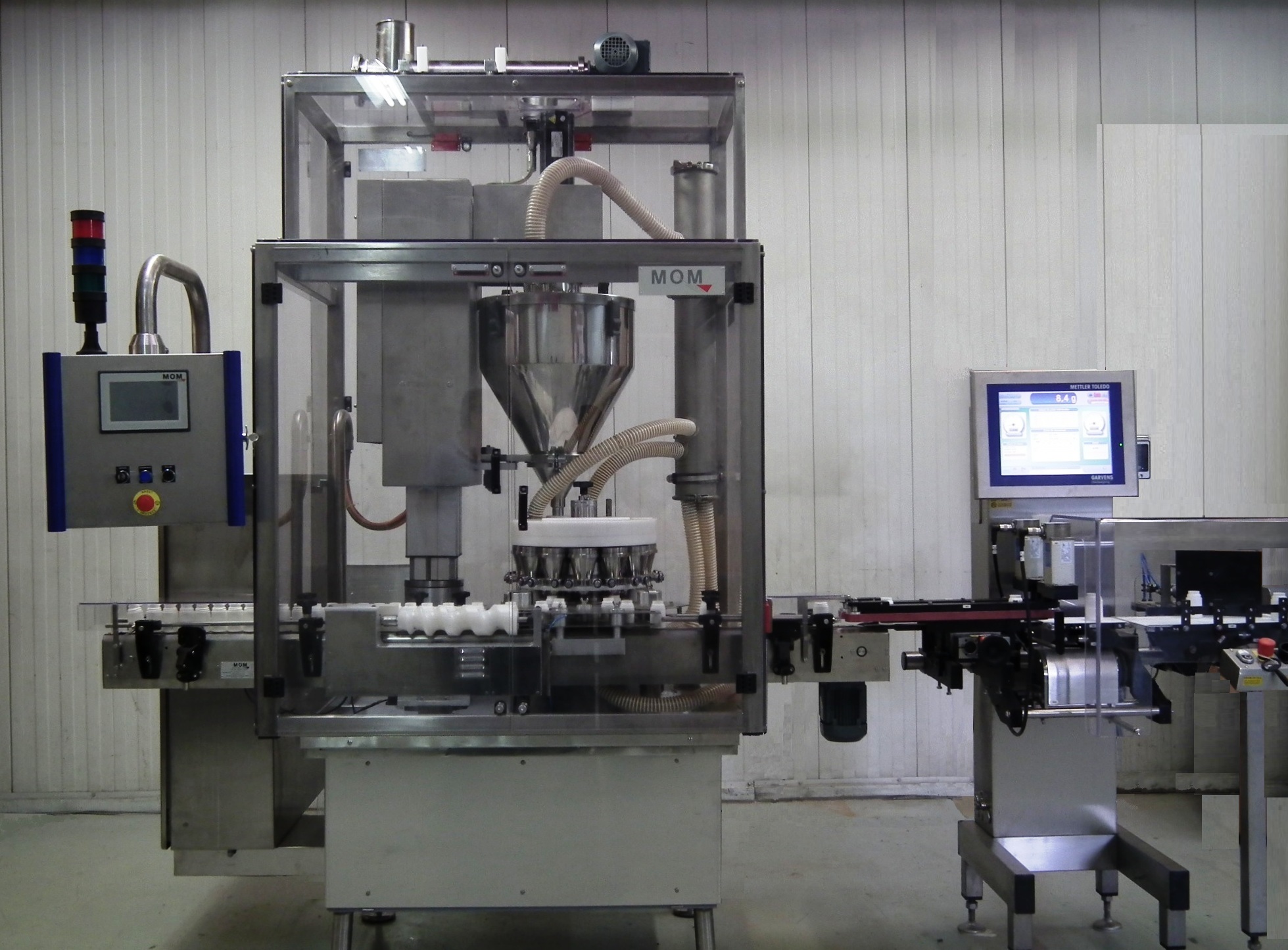 Choosing a high speed filling machine
A high speed filling machine is designed to fill thousands of packagings per hour. It should reach this speed whilst maintaining its accuracy and cleanliness, and eventually following specific constraints such as ATEX, dust, acids or bases,… In this article, we will answer the following questions: How does such an equipment work? What are the traps one should look out for? What are the competitive advantages of some manufacturers?
Technologies in play
– Continuous kinetic. Continuous kinetic filling means filling the packaging while it is moving. Usually set up on rotary machines, continuous kinetic increases the speed by removing the transfer time of step equipment. To use continuous kinetic filling on a rotary machine, it is necessary to use contactless energy and data transmission. The usual "broom" system will be replaced by short-distance contactless energy transmission. These new systems are more reliable as well as easier to set up.
– Movement synchronization. Using brushless motor and axis motion controllers enables synchronized cam movement. More expensive than asynchronous motors, these are much more accurate and include absolute encoder.
– Real time communication. A high speed filling machine is usually integrated in a complete packaging line. To optimize the line, these machines can be equipped with communication modules for monitoring.
Pitfalls to be avoided
– Complex format change. Some equipment require meticulous adjustments during format change. As a consequence, trained and skilled operators will be needed on the packaging line. That is why it is interesting to select equipment with a format change system which doesn't require any tooling nor adjustments. These systems are called "Plug & Play".
– Tedious disassembly of parts in contact with the product. A high speed filling machine is made of numerous mechanical components. If manufacturers are looking to improve the quality of the dosing, most forget to make the disassembly easy. As a result, the time needed to change formats may exceed half an hour or even an hour. Therefore it is important to request in your specifications a duration for the disassembly of parts in contact with the product.
Key advantages
– Industry 4.0. With the development of smart factories, important increases in productivity & flexibility as well as decreases in energy and commodity consumption were achieved. To prepare your transition into the digital industry, consider choosing a high speed filling machine able to acquire and transmit in real time hundreds of production & maintenance data per second.
– Remote servicing. Some manufacturers own modules for secured remote connection. Remote maintenance increases the manufacturer's reactivity when needed and thus diminishes the costs linked to production interruptions. Also, with remote servicing, in most cases, a visit from a technician isn't needed anymore in order to get the production back on track. To set up remote maintenance, do think of adding an internet connection to the machine.
– Automatic weight adjustment. When using a volumetric filling system, adding a checkweigher or a dynamic weight control system connected to the high speed filling machine enables you to adjust the filling in real time for better accuracy and regularity.
Choosing a high speed filling machine is a strong commitment. It could be the opportunity to prepare your transition into Industry 4.0. To maximize your chances of success, it is best to have a global vision of the implantation. Finally, do favor working hand in hand with experienced manufacturers on your exact specifications.
Read more articles by the Dosing Experts.
And discover all our high speed powder dosing machines and liquid dosing machines.