Filling machines at CFIA Rennes
MOM will present its range of filling machines at CFIA Rennes. The 9th edition of the exhibition will take place at the Rennes airport exhibition centre from March 13th to March 15th 2018. Thanks to this key event within the agribusiness, more than 20,000 visitors and 1,500 exhibitors met in 2017.
Filling machines for dry products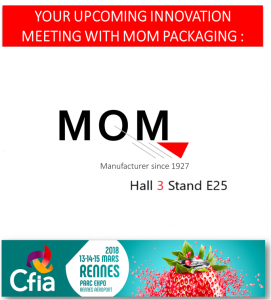 To fill your dry products (powder, micro-beads, grains,…), various technologies can be developed and implemented. Dosing machines presented at the exhibition will provide solutions for a number of problems:
– Dusty powder (ex : spirulina, proteins, flour, talcum powder,…),
– Sticky powder (ex : glucose, plaster, cement,…),
– Free-flowing (ex : toner,…),
– Legal metrology,
– ATEX solutions.
Filling with a vertical auger, by volume or by weight, allows a precise and regular dosing with no dust. To learn more about these technologies, read the fill powder article.
Filling machines for liquid products
As for dry products, depending on the characteristic of your liquid products, several options could be suggested.
For viscous or pasty products : piston dosing (ex : honey, syrups, creams,…)
For foamy products : filling by weight with « bec à ajutage » to fill from the top (ex : detergent,…)
For fluid or semi-viscous products : filling by weight (ex : milk, oil,…)
For your liquid products, MOM will present you its range of filling machines at CFIA Rennes which makes possible the filling of large packaging (drum of 25L) to very small ones (a few milliliters).
MOM key advantages
MOM equipments are the result of more than 90 years of research for simplicity and efficiency. MOM dosing machines are easy to disassemble for cleaning and maintenance: in plug & play. Very robust, our equipments require very little maintenance. MOM could work on your high speed filling project, as well as your semi-automatic project.
To accompany you in your digital transition, MOM offers smart and connected equipments. They allow you to improve your productivity and to increase your availability rate without any complicated configurations. Do not hesitate to ask for demonstrations on our stand!
To obtain free invitations for CFIA Rennes, click here.
MOM – Hall 3 Stand E25